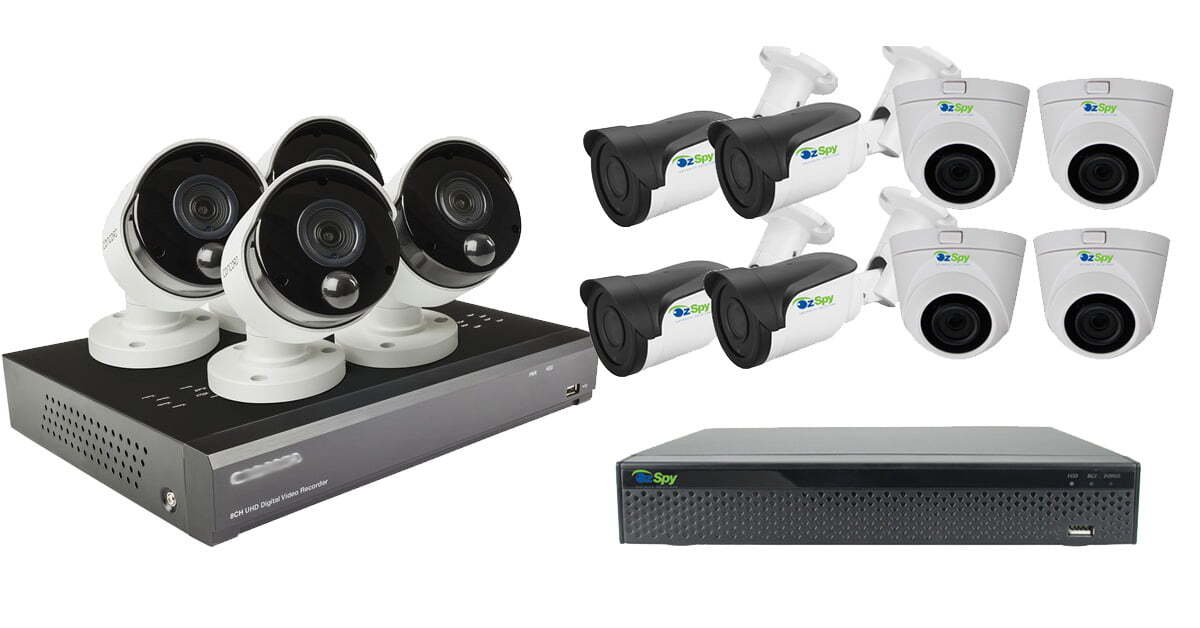 In this day and age it seems everyone is selling security cameras and to a lesser degree alarms. When looking at the offers they all look pretty good, and of course good marketing makes it so, but the devil is in the details, or lack of.
Of course we recommend you talk to a professional, so you end up with a system that lasts, and catches the bad guys, and for those that want to design and install their own DIY Security camera system, here is a guide for you.
In our opinion, stick with Dahua, HiLook, HikVision, OzSpy as these are the main brands that have been around Australia for decades and have a 3 year warranty.
First we can discuss the two types, IP and Coax, whilst IP is slightly newer, it comes with it's own issues, and of course, so does coax. When talking about each, it is easy to class them as opposing teams, like Holden vs Ford, etc., but in reality there is a lot less differences than some people would tell you.
Lets define them first.
IP Security Camera Systems
IP uses Cat5/6 network cable, normally blue in colour and the cameras normally run off PoE (power over Ethernet), this means you don't have to run a separate power cable, however sometimes you do. Some people will tell you to stick to IP as it is the modern option, but IP CCTV systems were invented in 1996 by Axis Communications, so in CCTV terms, it is a very old technology. IP is the choice for installers as it takes about 1-2 hours less for a full system to be installed.
An IP system has RJ45 clear network plugs. Generally we use IP on all commercial jobs as it can easily grow as the company needs more coverage.
Analogue HD Security Camera Systems
Here it gets a little confusing as this technology has been evolving at a high rate and the growth has been driven by the billions of existing systems worldwide that have coax cable in place. For people who have coax already installed it's a no brainer, use these cameras for an easy upgrade.
A coax system will use coax, or DIY cable and has BNC connectors which are silver and push and twist.
Analogue HD sounds like analogue, but since the late 1990s, they have been a 100% digital camera, just transmitting down coax. Most of these systems use TVI, CVI, & AHD as their format, and all deliver excellent image quality.
Analogue HD is now 4k and has the majority of the features that IP has, except it is built on a bullet proof cable, which we can discuss further. While some CCTV installers will tell you caox is dead, it has some advantages, which is why it is still widely used in NBN, mobile phone towers, and anywhere else where you need stable, heat resistant performance.
We offer coax to many clients, particularly those who want a simple system that just never fails, or we are worried about interference and environmental factors, or have existing cable in place.
Features
Firstly let's compare the features between an IP systems and a coax based system, both of the same quality.
| | | |
| --- | --- | --- |
| Feature/Issue | IP Systems | Coax Systems |
| Display 4K | | |
| Record 4K | | |
| Motion Detection | | |
| Remote View (mobile) | | |
| AI Human Detection | | |
| AI Line Crossing | | |
| AI Number Plate Reading | | ✖ |
| Audio | | |
| Warranty (OzSpy) | 3y | 3y |
| H265+ Recording | | |
| Simple to use | some | |
| Simple to set up | some | |
| Simple to fault find | ✖ | |
| Lifespan of Cable | 5 – 15 years | 25 years + |
| Standard Night Vision | Equal | Equal |
| Suits Commercial Installations | New Installs | Upgrades |
| Max Temperature of Cable | 55 degrees | 65 Degrees |
| Cable Resists Humidity | ✖ | |
| Long Range IR Capability | | |
As you can see above, the different types of cable have little effect on your system outcome, and for that reason shouldn't be the main discussion point. We recommend you discuss with an expert what suits your home, and your level of expertise.
Now Compare the Quality
This is where you can really see the difference, a DIY kit you buy from your local stereo shop or hardware store is built to sell as nobody takes the blame if it goes bad, you just return it for a refund. Bad luck about the $800 it costs to install it, and then it has to be uninstalled. A quick search of the product review website for most of the leading brands of DIY shows how bad things can go wrong if you buy the wrong equipment.
Internal HDD
A great example of the quality difference is the internal hard drive. Most reputable companies use a surveillance grade HDD,. which is built to run 24/7 for over 3 years. Almost every kit has a computer HDD designed for a few hours per day for 3 years, which rarely last more than a bit over a year, just long enough for your warranty to expire.
Warranty
There is a reason most have a 1 year warranty, and it's not because of the great quality. If you are looking at a security camera system with a 12 months warranty, run for the hills, and do not buy it, because there is a reason it's only 12 months, when the industry standard is 36 months.
Resolution
Another area of concern is resolution, and the misleading methods some DIY manufacturers use to hide it. For example, most leading brands of DIY talk about the recorder resolution, not the cameras. 100% of OzSpy recorders have 4K HDMI output, but we class our kits by the resolution of the cameras, after all that is what makes the image.
If you are thinking of buying a kit from your local hardware, look at the camera model number and Google it, you will soon see it either is half the resolution of the kit, or it can only do 6 frames per second, instead of 20-30 that a better system will provide.
The other trick is upscaling the image, many on the market have a 2/4mp camera sensor, and then upscale it by software to 4K, if it reads upscaled, then it's not actually 4K and it is just marketing hype, or lies, whichever you are more comfortable with.
Most people understand, if you get a 1mp image and stretch it to 4k (upscale it), it's never going to be as good as real 4K, and this is why they are so cheap, they are not 4K systems.
PIR Motion Detection
Lot's of the new DIY cameras are PIR (heat) activated with a promise that you get less false triggers. A professional system records 100% of the time and flags motion. These kits actually turn off the cameras and the cameras have to start when there is a warm body going past. This can take 0.5 of a second, which is why all the reviews talk about just getting people as they leave.
As they use PIR technology that start failing around the 36 degrees mark, you may find your cameras don't record much on a hot day. PIR technology looks for the difference in heat between the person and environment. When they are both the same, there is no detection, and therefore no evidence.
Value
Have a look at the below chart, and consider what is really good value, the cheap $700 DIY kit, destined to fail, or the $1,200 kit that will last up to a decade (we literally have thousands of clients with systems 10 years old and still working fine).
| | | |
| --- | --- | --- |
| Component | Cheap DIY | Commercial |
| Warranty | 1 year | 3-5 years |
| Surveillance Grade HDD | ✖ | |
| Reliable Detections | ✖ | |
| Expected Lifespan | 1-2 years | 5 years + |
| Honest Resolution | ✖ | |
| Reliable App | ✖ | |
| Local Support | Not Normally | Normally |
You can really start seeing the difference between a system designed to protect, and a mass produced system designed to sell at a hardware shop.
Final Thoughts
Whilst we recognise that budget and cash flow are important, now more than ever. We also understand that a cheap quality DIY kit is better than nothing. What we don't like is sub standard products being marketed as state of the art and misleading consumers.
There is a reason that a premium camera costs the same as a complete 4 camera package from your local hardware store, and the same reason is why companies would never wast money on a cheap DIY kit. Although they look great in the colourful box, they are virtually all sub standard and do not provide the evidence they claim.